A little information about the
Get

Together

members and committee.

Get together is an English speaking association with about 100 family members, most of whom are based in or near the Deux Sèvres. We range from the young to the elderly and from those that work here, own and run a gîte, visit regularly and perhaps have a 'maison secondaire' to those who are just enjoying retirement here. And we also have members from La Vienne, the Vendée and the Charente, as well as different nationalities.

Our various monthly groups and events are very popular and well attended, and offer a great way to make new friends and get out and about in Deux Sèvres.  And that, after all, is what we're all about.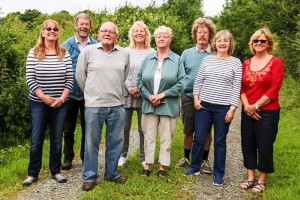 Our committee is very proactive organising events, activities and putting together our newsletter and we pride ourselves on being accessible to you, so you can get in touch with any of the committee at getogetherfrance@yahoo.com. We'll always do our very best to get back to you quickly and if there is some one specific you want to contact or something you need help with– do include that in the email and we'll see if we can help.
How it all began.
We've been around for a long time as we were founded back in 1989. Our original members were mainly English women married to French men but since then, things have changed and the group has steadily grown and gone from strength to strength.
With so many English speakers moving to or buying property in the region, it became obvious that there was a real need for somewhere they could go to get emotional support and friendship, as well as practical help. After all, French bureaucracy isn't always the easiest thing to get your head around.  And the result is that the Get Together of today is both a thriving and welcoming community as well as a great source of information for both long standing members and newcomers alike.
We'd love to see you at one of our Get Together events. Contact us for more information or better still join us today by clicking here and requesting an application form.
Get Together
Your friendly English speaking association for the Deux Sèvres.